Wednesday, September 22
12:00 PM ET | 6:00 PM CEST
Building a Business by Leading with Your Most Authentic Self
"Niche is rooted in the practice, not the person." —Michael Galyon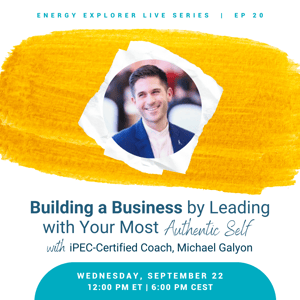 What do you think you need to have in place before starting a coaching business? Curious how to possibly choose your niche? How do you know if you've made the "right" decision?
According to iPEC Certified Professional Coach, Michael Galyon, there's just one thing you need to focus on to get a coaching business going: leading with your most authentic self.
Michael used to believe he needed the perfect website, social media presence, and niche before ever working with clients. This limiting belief is a common and understandable piece of fiction!
On Wednesday, September 22 at 12:00 PM ET (6:00 PM CEST), Michael will share with iPEC Admissions Coach, Carla Greengrass, what tools he utilized to go from no website and no niche, to a thriving coaching business, helping people cultivate calm in their lives.
Join us as Michael leads a visioning workshop to help you name what you want in your business, and put steps in place for how to get there.
Register today!