Wednesday, November 30
12:00 PM ET | 6:00 PM CEST
Find out what time this webinar is for you.
Make space for you: Creating balance among all the roles you play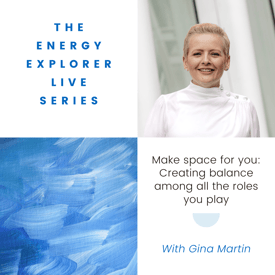 We all play various roles in our lives, and creating balance among them can sometimes feel challenging (understandably!)—especially when ambition and a desire to achieve can pull our focus more to some areas than others.
On the next episode of the Energy Explorer Live Series (on Wednesday, November 30 at 12:00 PM ET) you'll hear from Gina Martin, an executive leadership and high-performance coach for people who have worked hard most of their lives to achieve a great amount of success—and are experiencing challenges in finding balance among work, wellbeing, and relationships.
Gina will talk with Erica Midkiff from the iPEC marketing team about how achievement can become tied to our self-worth, and she'll share about her shift from a twenty-year career in retail experience to coaching. She'll also talk about her experience with burnout and how becoming a coach transformed her relationship with herself and supported her as she navigated breast cancer.
Join us on November 30 at 12:00 PM ET (6:00 PM CEST) to hear Gina's story.
Register today