THURSDAY, July 7
10:00 AM BST | 5:00 AM ET
The coach is in!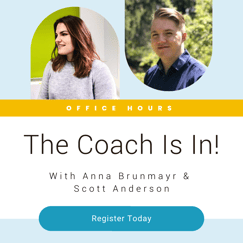 Imagine you've invited a certified professional coach to coffee or lunch to "pick their brain." What would you ask them? Here is your chance to ask all those burning questions about starting your journey as a certified coach.

Join Admissions Coach, Anna Brunmayr, and Admissions Assistant, Scott Anderson, as they sit down to answer your questions about coaching and everything in between.
We'll discuss real-life questions such as:
Why did you choose iPEC?
H

ow do quiet the doubts that keep us playing small?

How do you find your niche as a coach?
What are some lessons you learned while in the program?
Anna and Scott will answer these, and more! So come ready with your coaching questions, beverage of your choice, and curiosity.
*Whether you're based in the U.S. or internationally, you can join us for our virtual Office Hours at a time that's optimized for your region.

Office Hours webinars are hosted twice a month: once at 10 am BST, and the other at 1 pm ET. The latest webinar will always be listed on this page. Check back here for details!
Register today!