Coaching is about helping others gain clarity and focus in their lives, address personal and professional challenges, and build a more fulfilling, well-rounded life.
Become a Certified Coach in with the only ICF-accredited coach training program offering 3 certifications and 320 training hours.
Download our free guide today to see what makes iPEC's 8-month program the industry's most complete training. When you enroll in iPEC's coach training program to become a certified coach, you will:
Receive hands-on education with industry-leading coaches

Earn an industry-recognized Certified Professional Coach credential

Gain new tools and techniques to uncover you client's core belief systems and those of yours, as well

Get the experience and practice you need to feel confident coaching anyone, about anything, at any time
Interested?
Your first step is to download our free guide to choosing a coach training program to secure your spot for our classes starting in March, July, and November. Inside you'll learn more about iPEC's Coach Training Program plus how to compare different programs and make the right decision for you. Complete the form to get started!
Become one of the world's most thoroughly trained
and well-respected coaches.
Because of our accreditations and industry partnerships, when you attend iPEC, you gain strong credibility as a professional coach.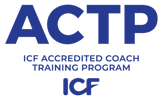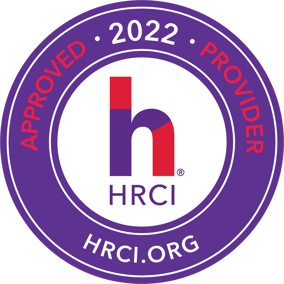 Upon successful completion of our program, you become a Certified Professional Coach (CPC) recognized by the International Coaching Federation (ICF), the coaching industry's governing body. iPEC is also approved as a Board Certified Coach (BCC) program through the Center for Credentialing and Education.
Flexible class times and self-study homework makes it
easy to learn on your schedule.
Almost everyone who enrolls in iPEC's ICF-accredited coach training program works full-time. Many have children or other
responsibilities to balance. So we developed this training to allow you to earn your certifications without putting your life on hold.
Attend 3 live, intensive trainings, spread out over 3-month intervals (virtually or in-person, in ).
Choose to attend your trainings on Friday, Saturday, and Sunday, or Tuesday, Wednesday, and Thursday.
Complete virtual work outside of class (about 5 hours per week) whenever it is most convenient for you.
Make great friends and industry connections with driven people from the community who share the same values as you.
This was an investment not just in me, but my ability to continue to perform at my job, and to serve and develop more people.
Graduates discuss the impact that Executive or Life Coach Training had on their lives and careers.
Many other coach training programs aren't accredited and don't offer certifications. When you graduate from our ICF-accredited coach training program, you earn 3 certifications. You also get lifetime access to all content and specialty training.
THE iPEC COACH TRAINING PROGRAM IS THE MOST COMPREHENSIVE
ICF ACCREDITED COACH TRAINING PROGRAM AVAILABLE.
iPEC's is the only coach training program with 320 training hours, the level of hours required for a Master Certified Coach (MCC) credential with the International Coaching Federation (ICF), and offers the following certifications:
Certified Professional Coach
Discover how to address the root cause of people's blocks, so they can unleash their potential and create sustainable change.

Core Energy Coaching™ empowers you to consciously choose your actions, create the things you most want to experience in life, and help others to do the same for themselves.
Energy Leadership™ Index Master Practitioner
Discover how to measure and quantify people's energy patterns including their beliefs, fears, and unconscious behavioral patterns, so it becomes easier to create change and get results.
COR.E Dynamics™
Discover how to maximize people's performance and shift energy according to specific challenges, so they can get unstuck and achieve goals quicker.
iPEC HAS TRAINED OVER 15,000 STUDENTS
FROM ALL OVER THE WORLD SINCE 1999
TW
iPEC coaching runs deeper than just the surface level of helping someone plan actions to move towards their goal. iPEC coaching is about helping people understand why they can't seem to move towards their goal even when they have designed a tangable plan of action. This understanding is the POWER of progress.
SK
Just finished my Mod 2 last weekend! It was an amazing experience and no amount of words can describe the learning experience I had. The new skills we are taught just augments the learning from Mod 1. Also, having a few opportunities to be coached bode well for e personally. The small group coaching was immensely helpful and targeted feedback by trainers just adds to the confidence and provides a safe space to learn from your mistakes.Worthwhile experience that I'd repeat any day😃
ZA
Incredible no words to describe
RA
It offers an excellent coaching training and support that helps in giving confidence and authenticity to anyone who goes through the program.
TW
Excellent training program and great support system!
CH
It is a sound and solid coaching program. The momentum and quality of the training provides an excellent platform to gain experience to be the best possible coach. I have made some great friends in the program which I can call upon to help me out, encourage me, or just give me feedback.
AI
iPEC coach training and the ongoing experience of the iPEC coach community that followed awakened me in ways I had not even imagined and gave me tools to have a fulfilling life and professional coaching career since.
TW
Ipec is cutting edge! A coachtraining that doesn't stop when you are happy with your house and your wife, it can coach you all the way to self-transcendence! Beyond humanness.At the same time they are quite human, slow and boring, for a more spiritually advanced being, most of what the teach will be redundant, but 10-30% of it will be Golden knowledge!
MS
Attended my first Mod experience. It was the first time I felt positively energised and engaged during a symposium. It was kind of like sticking your finger in a wall outlet without the pain or the smell. Just pure, joyful energy. Special thank you to John Bond for guiding us toward this amazing journey. Truly inspiring.
JG
iPEC trains coaches to go deeper with clients to help the understand WHY they behave in certain ways. This is crucial because the client can then discover the blocks that way get in their way, how they respond to challenges etc. going forward. This awareness can lead to huge changes!
BS
Bea Scalco Iglesias-Houlihan
Training to be a life coach with iPEC is one of the best decisions I've made. I learned so much about myself and people! The tools and techniques are awesome and I use them everyday. The trainers are top notch and always willing to help make sure you really get the materials. There are lots of ways to stay involved and to get support when needed through various pathways and communities. Thanks to the iPEC curriculum, I see so many opportunities and possibilities in my life.
CC
iPEC changed my life. Anyone that knows me, knows that I always seek out excellence and in my opinion iPEC is the best coaching program out there. The trainers and staff are exceptional both personally and professionally. The program is rigorous and I walked away with a confidence in my coaching abilities that will prove invaluable moving forward. The best part is that I made lifelong friendships. With iPEC, it's not an act --they really care about their students and want to make sure they succeed.
NG
I have been to so many events now, Tony Robbins and Landmark etc, Jaimini has been one of the best speakers I have ever seen and been to. I love her ability to connect, and her consciousness level. she is very authentic and able to connect with everyone. I had so many breakthroughs because of Jaimini. She makes me feel more committed to iPEC. I would highly recommend iPEC because of Jaimini.
DM
I enjoyed my iPEC journey. I learned some great things about myself and how to better relate to others. The program was very intense, it's way beyond the high energy weekends. I recommend iPEC to those who are looking to take coaching to another level by completing credible program. Lastly, the relationships I made on this journey have lasted almost 10yrs. There's nothing like it.
CM
iPEC helped me change my career, and therefore my life. This program was outstanding - I learned a ton, challenged myself personally, and got a major life skill (coaching!) that is fulfilling, rewarding and wonderful. Highly recommend!!!
SR
Best decision I ever made! Such a personally transformative experience in addition to being a world-class, immersive coach training. I have met many other coaches from different schools, and iPEC grads are truly one of a kind.
BS
Learning, and particularly in helping professions, is most effective when experiential. And that is what the great team of iPEC trainers is exceptional at: hands on, relevant, relational, authentic and interactive sessions that leave you feeling as if you've grown exponentially in awareness and complexity. Having gone through this one of kind experiences myself some years ago, I now get to support new students in their growth when I come back to the classroom as an ATC, and alway with renewed enthusiasm because they never fail to inspire me.
TB
iPEC Coaching is a fantastic program. I went from being a nervous wannabe coach to someone who was being paid a high hourly rate to coach in less than 6 months. The program is very well thought-out and prepares its students on many levels to be effective coaches. In addition to the great training, I received life-altering coaching as a participant in the program, met what will be lifelong friends, and found my tribe. I'm so happy that I took the leap of faith and invested in myself by going through the program.
TW
iPEC is the best coaching school in the world! I got more then I expected from the training, gained amazing high level friends and a rewarding job for life
AF
iPEC offers the most comprehensive, transformational coaching program available! I researched many programs and it was the best fit for me. It doesn't just teach you how to coach, but to BE a coach. The trainers are all amazing, the staff and the fellow coaches are the best. Once you've made the decision to go with iPEC, you become part of the community that is always available to you - both personally and professionally. One of the best decisions I made!
ST
When I started looking for a coaching certification I realized there was a lot of choices, some short others long some cheap others expensive but what really caught my eye with iPEC was the core energy coaching and the possibilities it offered. I can honestly say that my life changed even after the first day of the first module. I came away with a better understanding of myself and my reactions to things in my life and can say I am a better person for having done it. I would recommend iPEC and core energy coaching to anyone whether or not they ever do anything with actually coaching other people.
JR
iPEC coaching was one of the best developmental opportunties that I have ever invested in. As I went through this program , my level of confidence grew as a coach and my ability to lead my team and help them maximize their potential expanded. This program taught me about mastery orientation vs.performance orientation, which are two very different processes and views on how we lead and learn in our lives. iPEC taught me how to powerfully coach and serve my client's so that they can not change, but transform their lives. If you are looking for a top notch program, where you can easliy move into the magical world of coaching; then iPEC is the school for you.
SH
iPEC changed my life on every level!! The training I received allowed me to uncover my greatest potential to live my life fully and create a thriving coaching practice where I get to use my gifts to make an impact in the world. Seriously, the BEST investment I have ever made that has given me a huge return over and over again.
AK
What I love about iPEC is the rigor that goes with the program... This is not a "show up for a weekend and get a certificate" coaching program, it's a thorough education on what it truly takes to be an amazing coach. I'm also impressed with how iPEC has grown and evolved in the past year and a half in particular to embrace new technology and improve the student experience. I would recommend iPEC to any coach that is serious about raising their game in the quality of the service that they provide to their clients. This program will provide you with the foundation necessary to coach well with your clients.
Start your dream coaching career by
requesting your free guide today.
When you download Finding the Right Coaching Program, you'll discover:
The extra benefits you gain over coaching competitors when you graduate from an ICF-accredited coach training program.
Simple ways to determine differences between coach training programs and philosophies.
How to move beyond traditional coaching methods to deliver sustainable change by helping people transform the way they think and feel.
And much more!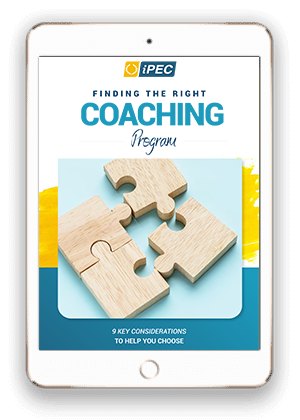 Gain access to exclusive business and
professional development resources.
Another advantage of the iPEC Coach Training Program is our global community of nearly 15,000 coaches who are available (and eager) to help you. Your training also includes exclusive resources such as:
Success Coach
Get three 30-minute, one-on-one sessions with a dedicated Success Coach after you graduate, as well as access to a private forum where you can connect with other students and share your experiences.
Quick Start
Learn everything from how to choose a specialty, create coaching packages and set your prices, to how to network and develop your marketing in a way that leverages your style and inspires action.
The Business Toolbox
Receive templates to get your business up and running, including coaching agreements, scripts, surveys and marketing tools. Even if you're not launching a business, you can use these tools internally.
COR.E Dynamics™ Resources
Get hundreds of predesigned client exercises and assignments, backend access to the SCOPE mobile assessment app, continuing education learning opportunities, marketing materials, and more.
FAQ
How do I enroll in the coach training program?
Your first step is to request a conversation with an iPEC Admissions Coach by calling 1-866-72COACH. Or to learn more about iPEC's professional coach training program, [download our free guide].
Does iPEC train their coaches to give advice? Are you more of a consultant kind of program?
No. iPEC does not train their coaches to give advice. As an iPEC professional coach, you master the Core Energy Coaching™ process, which goes beyond traditional coaching to tackle the root cause of your client's challenges. This includes their underlying thoughts, emotions, and energy. As you help clients shift hidden internal blocks, they uncover their own insights that lead to powerful and sustainable shifts in every area of their life.
Additionally, iPEC's Energy Leadership™ Index assessment provides tangible, research-backed ROI for any coaching engagement.
Is 100% of the program available online?
Yes. iPEC's Coach Training Program includes three, 3-day modules that may be completed at your choice of an in-person or virtual location.
During these modules, you practice your skills in a supportive in-person or online environment, get immediate feedback, and build invaluable relationships with other students. These in-person/virtual modules are required for graduation.
Do you offer payment plans, scholarships, or financial aid?
iPEC offers payment plan options to make your tuition manageable. For U.S. residents, we also offer a loan option with payments as low as $150 per month.
How long is the program?
Phase 1 of the program can be completed in 7-8 months. At the end of Phase 1, you earn the designation of Certified Professional Coach (CPC) and Energy Leadership™ Index Master Practitioner (ELI-MP). Please note, you do NOT have to wait until you finish Phase 1 to start working with clients. You can start taking paying clients or working with organizations right after your first in-person module, Module I.
Phase 2 can be completed in 3-4 months. At the end of Phase 2, you earn your COR.E Dynamics Specialist designation.
Does your program offer coach training specializations?
Yes, iPEC offers specialty tracks for 10 kinds of coaching. You begin with the Core Energy Coaching™ and Energy Leadership™ modules, which provide you with a solid foundation of coaching skills, systems, and processes, enabling you to coach anyone, on anything, at any time. As you progress through the program, you can choose a specialty, including:
Life Coaching
Relationship Coaching
Transitions Coaching
Health and Wellness Coaching
Group Coaching
Small Business & Professionals Coaching
Leadership: Executive & Management Coaching
Parents & Teens Coaching
Couples Coaching
Sports Performance Coaching
Download Finding the Right Coaching Program to Help You Find
the Right Coaching School today.